Cloud Data Management Solutions & Consulting
Secure, scalable, and convenient private data services for "The Cloud."
Cloud Data Management Is Not A Trend
This might seem obvious, but we still get asked if moving to the cloud makes sense.
Sure, every situation is different. But, if you are just beginning to explore the competitive advantages of cloud-based solutions, you might be a bit behind the game. Cloud Data Management Services are here to stay and they're secure, scalable, accessible, and much more.
Cloud Consulting Services
Cloud Migration Consulting
Cloud Services
WCI is platform-agnostic when it comes to the cloud, so whether you're looking for something like Amazon Web Services (AWS), Microsoft Azure, or have another preference (ex. Google Cloud, IBM, Oracle), we will work with your business to determine it's cloud goals and build out a strategy from there.
We know that our clients have many questions; that's why we promise to provide the right solution for your business, not just a blanket cloud deployment strategy.
Make Sense of Cloud Data Management
Cloud servers have been around for a while, and although organizations are comfortable with the idea of storing their data in the cloud (as opposed to on-premise), there is still some fear when it comes to security and reliability.
Two common questions we get asked are:
What's the best fit when it comes to public vs private cloud database management and hosting?
Where does a company even start once they've become interested in cloud data management?
That's where WCI can help.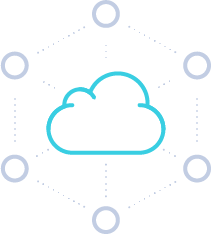 Our Process
Start with a Free On-site Discovery Session — Meet with a senior solutions architect to tell us more about your data challenges and goals.
Next, we Review the Proposed Solutions — After the session, we'll summarize, evaluate, and provide a list of data management solutions and project outline.
After that, we start the Solution Development Process — After the agreement is signed, WCI and your team will work together to develop the right solution that meets your project goals.
Lastly, we move into Training and Support — This is a key stage of our solution. Training you and your team will help ensure the technology is adopted into your workflow.
Cloud Data Management Services from WCI
You've Got Questions. We'll Get The Answers.
We'll work with you to evaluate the best cloud architecture, deployment options, and go over the hybrid alternatives of your enterprise data management solution (if applicable). Through our experience with organizing and migrating cloud databases, we guarantee you'll be able to achieve the cloud data management goals you want safely, reliably, and affordably.
WCI Supports These Cloud Data Management Platforms
Don't see the cloud platform you're looking for (ex. Google Cloud, IBM, Oracle)? We can still work with your organization to determine goals for the cloud and we'll then build out a strategy.
Spend 1/2 Day With Someone Who Knows Data