The Client
Mediant Health Resources specializes in providing IT subject matter solutions. Mediant's focus is on driving value through data to improve performance and clinical outcomes. Mediant offers outstanding strategic consulting, project management, and training for many of the nation's most widely respected healthcare organizations. Mediant Health Resources strives to improve its client's software systems by providing exceptional IT consultants to both providers and payers.
Executive Summary
Mediant, since its inception, has conducted its day-to-day business (resource management, payroll, commissions, leave, reporting/dashboarding) using non-cloud-based technologies that made it difficult for users to access it remotely. Recently Mediant invested heavily in building a more robust cloud-based application to manage their business. Through the process of building a new application, most of their analytical capabilities were lost due to back-end structural changes
The Challenge
Excel Reporting
Mediant relied heavily on Excel for reporting and dashboarding, which is not easily scalable, lacks security, is not collaborative, and has become unstable
Outdated Architecture
Due to the outdated architecture, Mediant was seeking a fresh new approach to visualizing data and engaged WCI Consulting to help design and implement a solution.
Cost Effective
Understanding the issues that were needing to be resolved, we needed to be able to implement changes and come up with solutions that would last into the future but in a cost-effective way.
Solution
WCI worked closely with the Mediant team to develop a secure, scalable, and easily accessible financial and commissions application (FCA) in the AWS platform. FCA replaced the existing Excel-based data entry application. Some of the AWS services used to create FCA were RDS Postgres, API gateway, Incognito, Lambda, and Amplify. Utilizing WCI's experience with creating cloud-based data and analytics platforms, AWS Quicksight was deployed to replace the existing outdated excel based approach. WCI felt this was an easy decision due to the simplicity of embedding visualizations into applications, its low cost compared to other visualization tools, its ability to scale, compatibility across multiple devices, and ease of use. Learn more about other companies that have overcome their business challenges thanks to WCI.
Results and Benefits
Because of the ease of employing AWS services, WCI was able to deliver a robust data and analytics platform quickly and at a lower cost than using traditional on-premises solutions.
This AWS solution allows Mediant Health Resources to securely access the FCA application from wherever they are, on any device, not just when they are in the office. This secure solution also allows for the quick adding of new users and the removal of users who are no longer entitled to access the data. Due to the scalability and stability of the platform, Mediant has increased efficiency in its interactions with FCA.
The old excel based data entry methods have been replaced with a responsive application that allows data to be entered in a fraction of the time. Processes that used to take hours have been reduced to minutes. In addition to improving the data entry process, Mediant can now view all analytical content directly in the FCA application using embedded Quicksight visualizations.
With Quicksight, the speed of developing visual content has significantly increased thanks to its ease of connecting to sources, creating content, and deploying that content. As a result, Mediant can deliver enhancements and expand its offerings at a much faster pace than they could on their previous platform.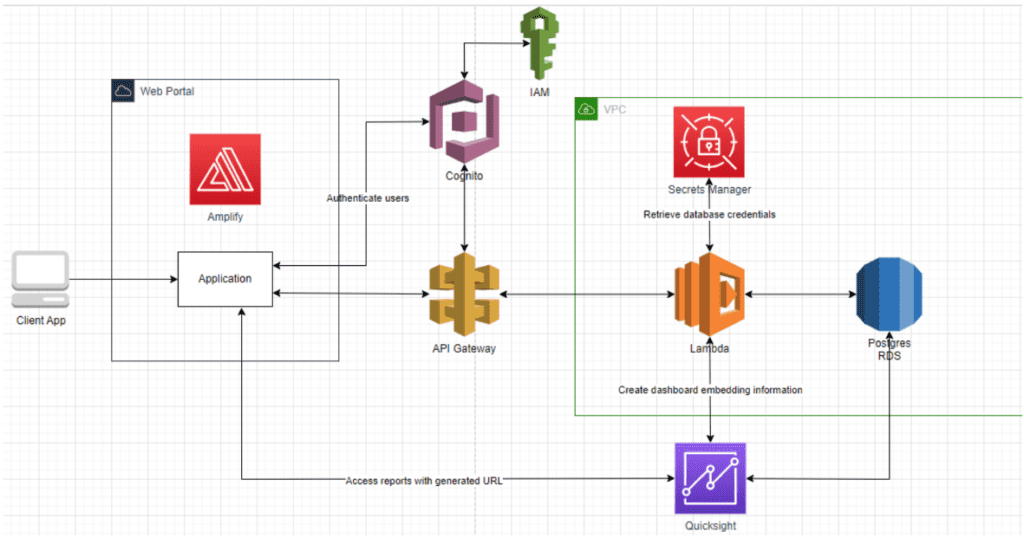 Related Posts