Tutorial on Creating a Pre-Defined Cell Based on Query Prompt Enhancement in Web Intelligence 4.1 SP5
We've asked our team to come up with what they think are some great additions to BusinessObjects Web Intelligence 4.1 SP5 and are happy to share our thoughts with you. If you have any questions, don't hesitate to 
reach out to us and ask
.
How to Create a Pre-Defined Cell in Webi 4.1 
Compared to inserting a blank cell in a report, you can select a pre-defined blank cell as an alternate option.  A pre-defined cell includes the appropriate syntax already applied to the free standing cell instead of writing your own syntax. For this example, we will be utilizing the 'Prompt' pre-defined cell option which is based on a report prompt.  After a dimension object is added to the Query filters area and enabled as a prompt, the newly created prompt is a selectable option in the Pre-Defined Cell>Prompt menu.  When you insert the 'Prompt' predefined cell in a report, the cell displays the user prompt selections from the last refresh or Run Query action.
Steps 
Open Web Intelligence 4.1 Select your required dimensions and measures for your query Create a prompt in the Webi query panel by dragging an object to the query filters section. Click the object options from the down arrow menu. Select 'Prompt'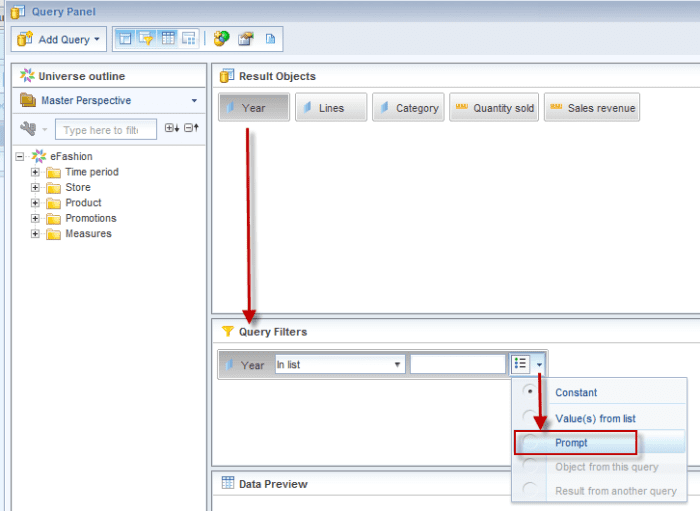 The prompt text will be auto populated in the text box. You can customize the prompt text if required.

Run your query Select the 'Report Element' tab in Webi toolbar Click 'Pre-Defined' option and mouse over 'Prompt' option Then, select the text from your prompt created in the query panel
Click and drop the blank Pre-Defined cell anywhere on the Webi canvas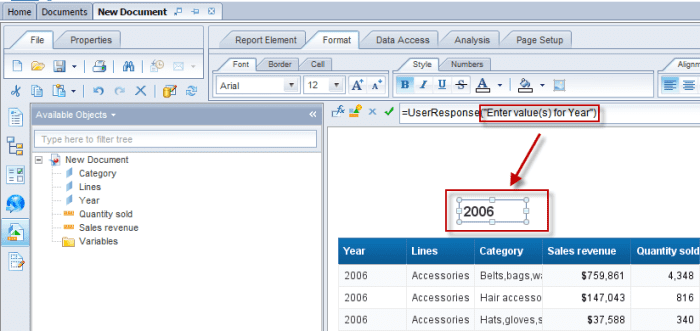 The Pre-Defined cell now displays the year you selected in your query prompt You can use this function to display the value of any prompt on your Webi report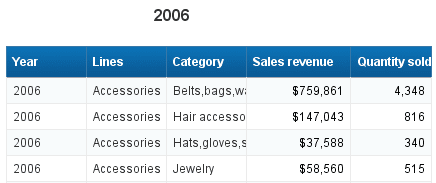 [gravityform id="26" name="Contact WCI - Blog"]
Related Posts