TDWI Business Intelligence Ebook
Free Ebook: Self-Service BI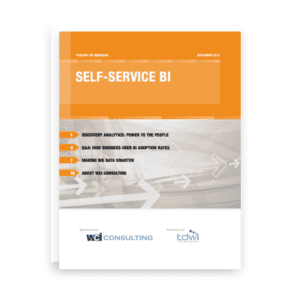 Get this FREE Business Intelligence Ebook from TDWI and learn why it makes business sense for business intelligence users to empower themselves with discovery tools and become "analytics explorers".
Download now (form below for instant access) to learn about:
✓ The new bottom-up push to make analytic discovery user-driven not dictated by IT departments
✓ Ways to increase BI end-user adoption rates
✓ How to make the most out of your big data
Learn more about how WCI can work with your business to increase end-user adoption and create "analytics explorers" through our BI consulting services.
Fill out the form below to get instant access to the Self-Service BI Ebook from TDWI now!
TDWI Ebook