Crystal to SSRS Conversion Whitepaper
Crystal to SSRS Conversion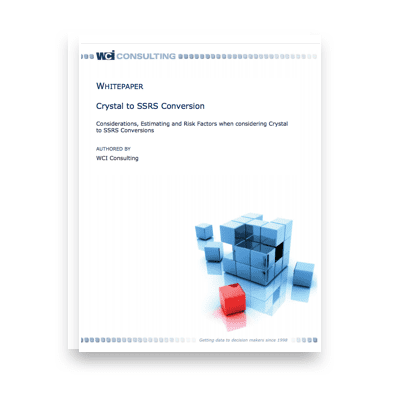 SQL Server offers a free reporting tool when you purchase SQL Server Enterprise edition. Business owners are looking to reduce costs by switching to Microsoft's SSRS reporting tool. There are several differences between the two reporting tools that should be taken into consideration when deciding to make the transition.
There can also be a considerable ramp up time for learning a new tool or a company's environment. These can all lead to risk factors that should be taken into consideration when planning a conversion. WCI has experience in every aspect of this conversion process to better allow us to manage a conversion process like this and expedite the conversion process.
Download the whitepaper to learn more about the Crystal to SSRS conversion process.
Crystal to SSRS Conversion
Download the whitepaper on Crystal to SSRS conversion. Please note that we do not accept yahoo, gmail or hotmail email addresses.